Kolkata Chicken Price:
Ending in 2022. And after seven days, the new year. The world is in a festive mood. Kolkata is also participating in that festival. Eating and drinking doubles the fun of the festival. However, on this day Sunday in Kolkata and suburbs, chicken remained in the house of 200. As the price of chicken rose to Rs 230 a few days ago, it was thought that the price may touch Rs 250 by Christmas. But it didn't happen. Chicken in Kolkata ranges from 190 to 215.
Chicken and mutton shops have been lined up since Sunday morning. As chicken is cheaper than the price in the fish market, customers are not facing much difficulty in choosing. Although the price of meat has decreased slightly, the price of fish in the market is high. It is becoming very difficult to buy any fish below 200 rupees per kg. But vegetables are now the cheapest in the market. It is said that various types of vegetables are available at the cheapest prices of the season. Vegetables like potatoes, cauliflower, cabbage are also included in that list.
Now let's see the price of vegetable and fish market in the city of Kolkata?

Let's first look at the market price of vegetables – (Kolkata Vegetable Price Today)

Potato (old) – Rs 14 to Rs 16 kg
Potato (new) – Rs 22 to Rs 24 per kg
Cauliflower – Rs 12 to Rs 15 per pair
Cabbage – 15 to 20 rupees per pair
Uchche – 40 rupees per kg
Wolkopi – Tk 20 kg
Onion – 40 taka per kg
Onion – 30 rupees per kg
Eggplant – Rs 30 to Rs 35 per kg
Tomato – Rs 30 to Rs 40 per kg
Raw tomatoes – 40 rupees per kg
Mocha – Tk 20 (medium size)
Patal – 40 rupees per kg
SIM – 30 rupees per kg
Curd – Rs 40 to Rs 50 per kg
Papaya – 10 rupees per kg
Lemon – 2 rupees piece
Spinach – 10 rupees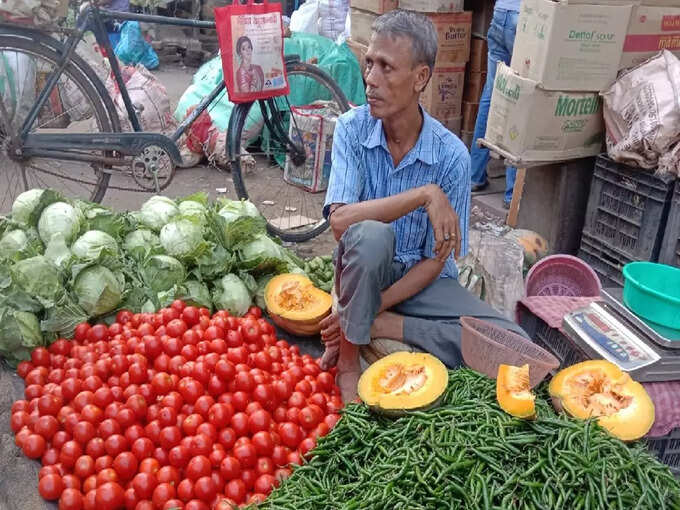 First let's look at the fish market (Kolkata Fish Market Price).

Cotton – Rs 180 to Rs 220 per kg (whole)
Cotton – Rs 220 to Rs 250 per kg (cut)
Katla – From Tk 350 kg
Bhola – Tk 250 per kg (medium size)
Tangra – Tk 200 kg (small)
Pabda – Price starts from Tk 400 per kg
Lotte – Rs 120 to Rs 150 per kg
Perse – Tk 250 per kg
Lobster – 700 rupees per kg
Let's take a look at today's market meat price (Kolkata Chicken/Mutton Price).

Chicken – Rs 200 to Rs 240 per kg
Whole chicken – Rs 140 to Rs 145 per kg
Mutton – Rs 720 per kg to Rs 780 per kg