Kolkata Market Price:
The prices of several vegetables have recently decreased in the entire state including Kolkata. As it is winter, the prices of all seasonal crops have come down, and 12-month vegetables have also become cheaper. On the one hand, the prices of vegetables such as cauliflower, cabbage, tomatoes, etc. have decreased, and vegetables like potatoes and papaya have also become cheaper.
Besides, new potatoes have just arrived in the market. This potato is more expensive than old potato. However, many consumers prefer to eat new potatoes because of the taste, so new potatoes are in demand in the market along with old ones. However, the price of old potatoes is about 10 rupees per kg more than old potatoes. However, the price of other vegetables is relatively low. However, the price in the fish market is high again. Except for some small fish, the price of all other fish is more than 200 rupees. Let's see the price of vegetables and fish in the market on Monday, the first day of the week?
First let's look at today's vegetable market rate.

Potato (old) – Rs 12 to Rs 14 kg
Potato (new) – Rs 22 to Rs 24 per kg
Cauliflower – Rs 10 to Rs 12 per pair
Cabbage – 12 to 15 rupees per pair
Uchche – 40 rupees per kg
Wolkopi – Tk 20 kg
Onion – 40 taka per kg
Carrot – 40 rupees per kg
Onion – 30 rupees per kg
Eggplant – Rs 30 to Rs 35 per kg
Tomato – Rs 30 to Rs 40 per kg
Raw tomatoes – 40 rupees per kg
Patal – 40 rupees per kg
SIM – 30 rupees per kg
Barbati – 10 rupees
Curd – Rs 40 to Rs 50 per kg
Papaya – 10 rupees per kg
Lemon – 2 rupees piece
Spinach – 10 rupees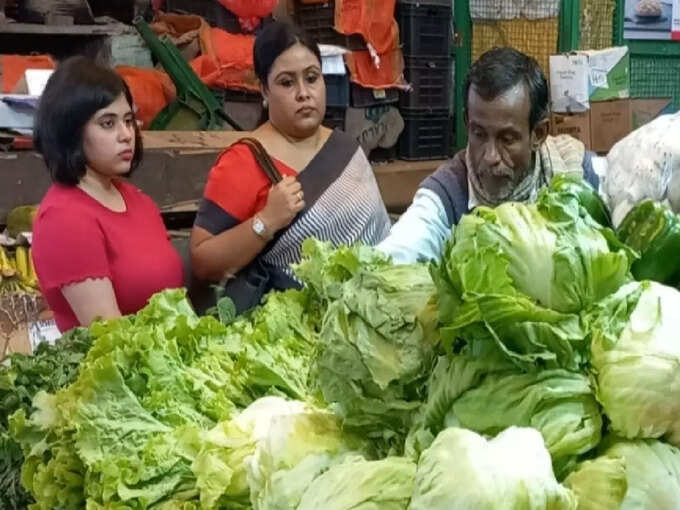 First let's look at the fish market (Kolkata Fish Market Price).

Cotton – Rs 180 to Rs 220 per kg (whole)
Cotton – Rs 220 to Rs 250 per kg (cut)
Katla – From Tk 350 kg
Small Tangra – 200 rupees per kg
Bhola – Tk 250 per kg (medium size)
Pabda – Price starts from Tk 400 per kg
Lotte – Rs 120 to Rs 150 per kg
Perse – Tk 250 per kg
Lylontika – 150 rupees per kg
Lobster – 700 rupees per kg
Bagda-shrimp – 350 taka per kg
Let's take a look at today's market meat price (Kolkata Chicken/Mutton Price).

Chicken – Rs 200 to Rs 240 per kg
Whole chicken – Rs 140 to Rs 145 per kg
Mutton – Rs 720 per kg to Rs 780 per kg
Economic Times' data-rich, cutting-edge analysis from over 20 sectors. click on